Mutual Trust & Millions of Thanks

Representative SAKAE Koichi (Mr.)

A member of the Saitama Prefectural Gyoseishoshi Lawyers' Association

A registered agent of the Tokyo Regional Immigration Bureau

3-3-17, Kasumigasekikita, Kawagoe, Saitama, 350-1109

TEL 049-277-6752 FAX 049-277-6753

OUR SERVICES
Welcome your enquiries !

English Hot Line 080−3497−7414

For your convenience, a qualified consultant will visit your place
for further consultation within Saitama, Tokyo 23 wards and

Tama Area, Gunma and Kanagawa prefectures

without claiming travel cost.

International Marriage Procedures

    A Japanese national and a Foreign national

            Foreign nationals each other

Petition for Special Amnesty for Residence (Zaitoku)

Illegals, Overstayers and Non passport holders have
opportunities to obtain legal residential status in Japan.

International Divorce Procedures

    A Japanese national and a Foreign national

            Foreign nationals each other

All procedures at the Immigration Bureau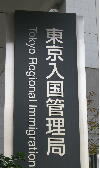 Permission for Permanent Residence (Eiju)

Provisional Release for Detainees (Karihomen)

Application for Certificate of Eligibility

(Employment, Spouse of Japanese, etc)

   Document Preparation for Temporary Visitor Visa

(Visits to Relatives or Acquaintances, etc)

Change of Status of Residence

(Student → Employment, Employment → Spouse of Japanese, etc)

Permission for Extending Period of Stay

(1 year → 3 years, etc)

Acquisition Status of Residence

(Children without Japanese Nationality Born in Japan)

Re-entry Permit

Permission to Engage in an Activity Other Than That
Permitted by the Status of Residence Previously Granted

(Students may engage in part-time jobs)

Certificate of Authorized Employment

Naturalization Procedures

To Obtain Japanese Nationality
Company Setting-Up

To draw up the articles of incorporation

Instruction for company registry

E-MAIL

サイトマップ  SITE MAP  網站地圖
OUR OFFICE
FEE SCHEDULE